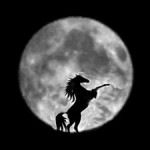 Full Moon in Sagittarius
29* ( Second One in a Row!)
June 20th 4:02 PM
Once every few years we have two full moons in the same zodiac sign. May's full moon was at 1 * Sagittarius, and this month it is at 29* Sagittarius. So,  the polarity between Gemini and Sagittarius is emphasized greatly! Gemini deals with perception, Sagittarius with concepts and convictions. The bright side of Gemini remains open minded, aware that there is always more to learn and that listening is as important as speaking! The shadow side of the Twins know a lot of facts, but has little wisdom! The high road of Sagittarius leads to ever-expanding horizons of understanding, tolerance, and the realization of life's purpose;its low road falls into deep ruts of dogmatism, entitlement, and excess of all kinds.
This Full Moon highlights where we are Walking our Talk and we we are still learning to embody our deepest truths! This lunanation, combined with the Saturn Neptune Exact Square June 17th,and the Grand Mutable Cross, illuminates the path for our Souls to follow!
A crossroads that has been building all month!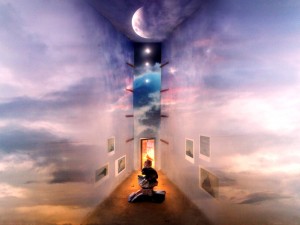 Sagittarius Rules Horses…..the Higher self of the horse is the Unicorn……and the Boss of the Unicorns is Pegasus!  Pegasus will be joining us on the Full Moon Ride/Drumming Journey  to guide and  assist in illuminating our Soul's path!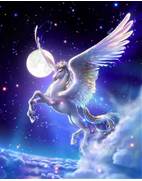 We  meet up at the Circle K Stables at 5:45  on Sunday the 19th, then set off to ride thru beautiful Griffith Park for an hour. The ride allows us time to relax and open up to Possibility! After the ride, we directly proceed to Betty Davis Park, around the corner and do an amazing ceremony including  a guided Pegasus Meditation Journey! It will be an awesome evening….you can count on it!
RSVP REQUIRED for horse reservations!
Time: 6:00 PM Sunday June 19th
Where: Circle K Ranch  914 S Mariposa St, Burbank Ca
Cost: $60 Cash….No atm's at stables
 If you can't join us, be sure to go out and let this special f moonlight shine it's blessings of clarity, confidence, and resolve to follow your Heart and Soul's Path!
Let go if what is not working…..embrace a new exciting direction and future….
And howl to your hearts content!
This is a special time and moment.
We are all ready to take flight ,and with the direct station of Mars June 29th, the Lights are GREEN!
Remember….Words and Thoughts become Things…..Now is the Time to Think Big!
Stay
Inspired…..Connected…..Empower!
Peace and Blessing