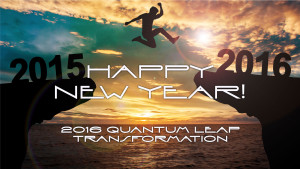 We are starting out the New Year with a bang, and when we move into February, it's is going to feel like we lived the entire year in the first month! So, buckle up  …. it is going to be a Quantum Shift Month!
Before I break down January by days and aspects, it's important to take  time to reflect on the last 3 years and what changed for you during the Pluto-Uranus square. This aspect is going to be re-activated all month….so best  Be Prepared!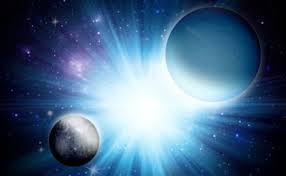 In order to  fully understand the energy,  we need to revisit the Pluto- Uranus square. It was a 3 year long rare aspect that was extremely powerful and life changing for many of us. The first meeting of these two Power Planets was June of 2012, and the final exact aspect completed March of 2015. Change happen frequently during these 3 years, some good and some difficult. The direction you were traveling may have turned 180 * at least once, and you may have been lost, having to start from scratch. Old patterns, structures, and foundations dissolved as new ones formed. Priorities shifted, and some were not all you thought they would be.
Collectively, the influence of the Uranus-Pluto square upon the world has been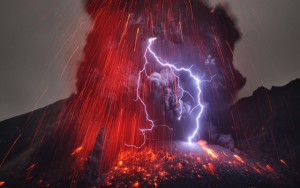 huge! New, unpredictable energies coming in from Uranus in Aries met and butted up against the old order represented by Pluto in Capricorn.This slow moving powerful square has brought shake ups and radical changes in many areas, and the ripple  effects are only just  beginning. We will feel these change for many years to come!
The last time these two planets met up was in the 60's. It was a time of revolution,  though we did not realize it at the time.

https://www.yahoo.com/music/revolution-111917759.html
Take a listen to the music part of that revolution! This is what's happening now. The changes we are making today are revolutionary, and will impact our culture and our world for decades!
As we seek to  move into places where we can thrive and express our Soul's Higher Purpose, the changes we make personally will completely effect the Collective and  future of our planet! And, the Cosmos is here to Assist us in this transformation!
So, as Mercury retrogrades thru the sign of Capricorn all month, he connects with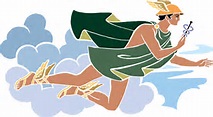 and re-activates the Uranus -Pluto square.  Mercury is the planet of communication, our thought process, how  and what what we think. He has been called the Messenger of the Gods!  And,  now, we have the perfect opportunity to take a look at and rethink the last 3 years and consider where we are today. He will help us  understand the what and why!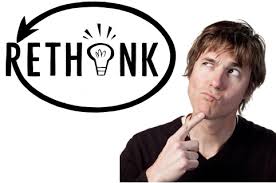 Are we on the Right Path?
What changes occurred?
What opportunities were missed?
What was the hardest thing you had to do during this time?
What new things do you accept and embrace about yourself?
Do you feel you missed a chance for something new and exciting to come into your life?
If so, could that still happen?
And…what in your  your Heart and Soul continues to call you?
If you are not on your correct path, be prepared for changes, shifts, and moves!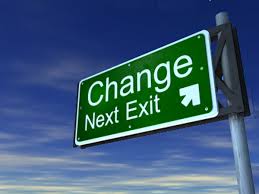 The Universe will be making adjustments  for you, so be light on your feet and watch for and listen to the signs all around you.
Some things that may occur during this time…..
Challenges with communications…..flushing out information that is needed!
A reversal of direction due to new information and insights becoming known.
Agreements and contracts could fall apart as parties involved just can't reach terms that are mutually satisfactory.
And you may surprise yourself at what you find out is true about you!
The benefit of this retrograde timing…..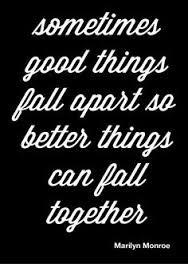 You may get info or insights that expose something that could have been a disaster if you'd proceeded as planned.
In some unexpected way an idea you had in the last 3 years is revitalized and now feels like the perfect time to pursue and make a reality.
You finally see the truth of something  that has disturbed or challenged you for some time, and you are now able to move forward with a clear conscience.
You are able to release plans and ideas that are not getting any traction, and are willing to stay open to new, exciting directions the universe has in store for you!
You finally gain clarity about why things have gone the way they have for the past few years!
Below are the dates to note in your calendar….but please, stay open  and alert all month. The Uranus energy is very unpredictable…..as well as brilliant!
Pay attention to your ah-ha moments, and follow the synchronicities to Light your way!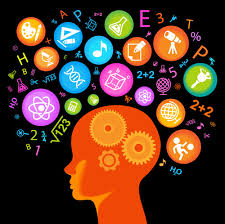 The first few days of the month are the best time to review and reflect.
Once Jan 5th roles around the action begins!
Jan 5th to the 25th……. Mercury goes Retrograde. He starts at 0 Aquarius and returns to Capricorn on the 8th thru the 25th.  All the usual Retrograde rules apply…back up computers, double check dates and appointments, be prepared and flexible. Things are about to change up!
Jan 5th – 7th…..The Sun Conjuncts Pluto and Squares Uranus. Expect the unexpected! (This is the first re-activation of the Uranus-Pluto sq)
Jan 7th- May 9th….Jupiter goes Retrograde in Virgo. All issues that are being re-viewed this month will be amplified! Also, this is perfect timing to re-look at your health, nutrition and fitness routines and re-establish new, better ones!
Jan 9th…New Moon in Capricorn at 5:30 @PM This  is the First New Moon of the year and is particularly potent. As such, I will be having a gathering this day for all of us to set intentions, review what is going on Cosmically, take a peak at the rest of the year,  and create 2016 together!
5:00 to 7:00 PM  in Marina del Rey@ the Dolphin Marina Pool Room!
RSVP if you would like to attend and I will send all the details!
Here is what we have….the Sun and Moon ( New Moon) are conjunct or kissing Pluto, (powerful change agent) in the sign of Capricorn,  and all three are squaring Uranus (the brilliant rebel!) in Aries. It will be pretty intense!  Events that occur now and in the next few weeks could be life-changing. Something you though could happen may take a radical turn. However, this new twist is ultimately what you wanted…just an unexpected way of getting there! More details on this New Moon will be posted on New Moon Page shortly, as well as details about  my gathering!
Jan 20th…Mercury Rx squares Uranus the 2nd of 3 times.
Expect the un-expected…take 2!
Jan 22nd…Mercury Rx Conjuncts Pluto ( 2nd time at the Full Moon) More change…take 2!

Jan 23rd ….Full Moon in Leo/Aquarius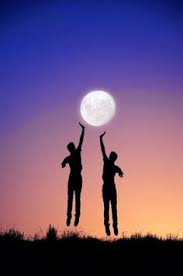 This very social Full Moon may feel a bit heavy as Mercury is conjunct Pluto right before this Full Moon. But, what will be illuminated  is all the stuff that needs to be released  about what is not or did not work. It is a time to resent the buttons. Leo is about our personal self expression and creativity, Aquarius is about the Collective, and what we need to do to move our planet forward. How can we help, volunteer, do the right thing in our own special way? Listen In for your guidance
(  more details will be posted on Full Moon page shortly)
Jan 25th….Mercury goes Direct! Yea….but not out of the woods yet!
Jan 29th Mercury Conjuncts Pluto  the 3rd and final time!
Jan 31st….Mercury Squares Uranus for the 3rd and final time!
Woza…! Welcome to the New Year and New You!

And, I just love how the Cosmos just lines everything up perfectly for our transformation.
2016 =   9  Year (2+0+1+6)
9 in the Tarot is the Hermit!
He can really give us tools to work with this quantum leap year.
The Hermit is one of the most sacred of the Major Arcana cards. It symbolizes looking within for guidance, answers and strength, rather than seeking it outside of yourself. This simple act embodies a huge step in our spiritual evolution!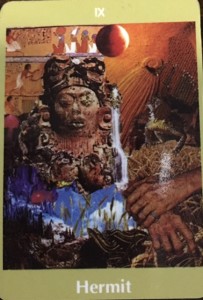 This photo is of the Voyager Tarot deck and is the sculpture of the Mayan Inward Turning Sage. The Hermit symbolizes the law of wholeness-to become complete by uniting the highest state of attainment in the material and spiritual realms.  He shuts out distractions to complete his Spiritual pilgrimage and temporal work.The Hermit's number Nine, three Threes, symbolizes the unity of mind, body and spirit.
The Hermit achieves his path of enlightenment by using his tools…
The 9 of Wands…having the courage and steadfastness to follow his path (Integrity)
The 9 of Crystals….He stays focuses and disciplined as he finds the light of illumination through the trials and tribulations of life ( Narrowness)
The 9 of Worlds…In touch with the inner light, he converts personal qualities and potentials into material harvest.
The 9 of Cups…He enjoys the Fruits and Fulfillment of the harvest, from the inside out!
One last thought….This year is going to be Quantum if you are
In The Flow with your Divine Plan!
Energy has shifted
Things  happen quickly
 Know You will be supported by the
Cosmos!
It is exciting and scary!
Best Practice, Follow the path of the Hermit….
Go IN to get  your guidance on a daily basis,
Make it the most important part of your morning!
Your reward will be beyond measure!
Remember….
Stay Inspired….Connected….Empowered!
Happy, Healthy, Quantum Leap
Peace and Blessings,
Shelley